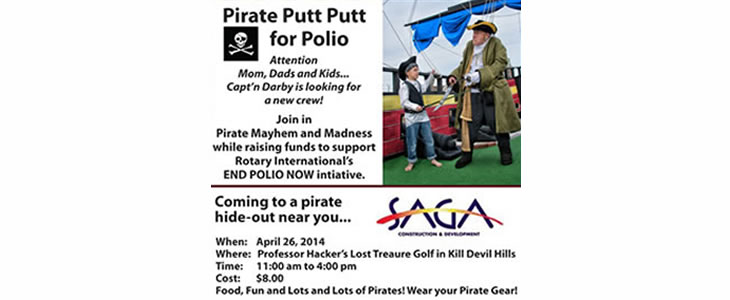 SAGA Sends Polio Down the Plank!
SAGA Construction & Development is proud to join in the worldwide fight to eradicate polio. Recently SAGA joined forces with the local Outer Banks Rotary Clubs and was successful in raising $9500 to eliminate polio across the globe!
Rotary International has been a champion in the fight against polio since 1988, making it their number one initiative to eradicate polio worldwide. Today, 99% of children, 1.8 billion people across 11 countries, are polio-free thanks to unprecedented commitment from governments, exceptional program quality, and the dedication of millions of community health workers and volunteers. We only have 1% to go! It costs only $1.20 to vaccinate each child against polio. Our $9500 efforts will vaccinate over 7900 children from contracting this crippling disease.
This year's event was held at Professor Hacker's Lost Treasure Golf on Saturday, April 26. Roving bands of pirates from local schools donned their best pirate attire and demonstrated fun-filled shenanigans, entertaining the crowd with sword-fighting and sea-shanty tunes! It was a gloriously warm and sunny day, perfect for all of the wild pirate antics and friendly camaraderie, a great time was had by all. Thank you Outer Banks Rotary for the opportunity to make a difference in the lives of so many families. See you next year!
.